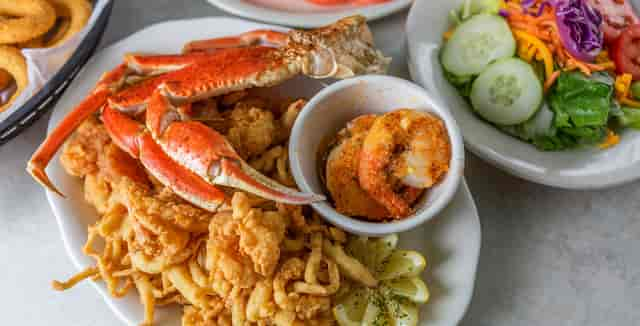 Fresh Local Delicious Seafood
Served in a Casual Dining Environment
Welcome to Captain Eddie's
At Captain Eddie's Seafood Restaurant in Nokomis, FL, we are all about the seafood! But not just any seafood – only the freshest and best will do for our customers! Our succulent seafood fare will have you coming back for more again and again! 

Caught fresh daily, our menu specialties include rock shrimp, stone crab (in season from October to May), and Florida Gulf grouper, as well as other delicious seafood items. We have created a comfortable and relaxed atmosphere for friends to meet and enjoy a delicious meal and each other's company. 

Or, if you love the art of cooking, purchase the same luscious seafood we serve in our restaurant from our retail market and take it home. All of our seafood is freshly caught locally. 


Whether it's the high-quality food, accommodating staff, or beautiful setting, Captain Eddie's Seafood Restaurant is certainly worth the trip!
Captain Eddie's Seafood
107 E. Colonia Lane
Nokomis, FL 34275

Hours
Monday - Sunday:
11:00 am - 9:00 pm





Get Your Catch of the Day
Did you enjoy the seafood served at Captain Eddie's Seafood Restaurant in Nokomis, FL? Get it to go by purchasing fresh seafood and fish from our retail market along with specialty dips, sauces, and spices.
Market is open 7 days a week, 10am - 9pm.